Endpoints are individual file storage locations that send or receive files backed by Signiant SDCX Server software. The Endpoints page displays a list of your registered endpoints, their Visibility level, Status, and Version.

Creating Endpoints
To create a new endpoint:
On the Endpoints page, click the Add button.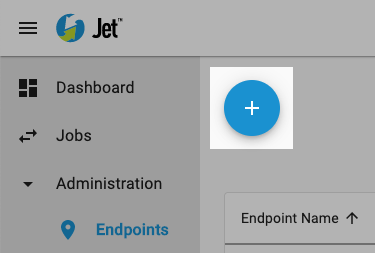 On the New Endpoint page, enter an Endpoint Name.
Use the drop-down menu to select a server or to Configure server after creation.
Click Create.
Assigning Servers to Endpoints
All endpoints must be associated with a Signiant SDCX Server and route before they can be used to perform jobs.
To assign a server to an endpoint:
On the Endpoints page, click the endpoint name to configure its storage.
Click Select Server to display the server list.
Select a server to assign to the endpoint.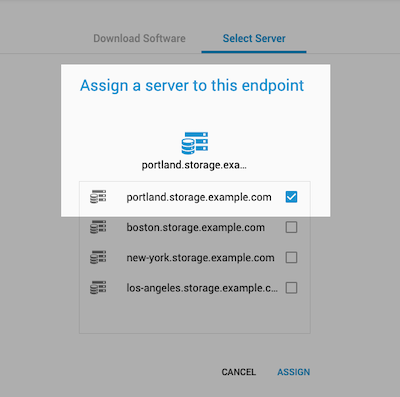 Click Assign.
Once a server is assigned to an endpoint, you can begin using jobs to transfer files.
Setting Endpoint Visibility
The Visibility level sets the access level associated with the endpoint.
Note: Only Private endpoints are supported at this time.
Deleting Endpoints
Before you can remove an endpoint, you must delete all jobs associated with the endpoint.
To delete an endpoint:
On the Endpoints page, hover over the endpoint you want to delete.

Click More Options.

Click Delete and confirm the deletion.
Note: When an endpoint associated with a route is deleted, the route becomes invalid and can no longer be used.