Signiant Jet can be configured to use on-premises storage using Signiant SDCX Server software. Jet transfers are accelerated between endpoints through technology included in the SDCX server, and by interfacing with Signiant Cloud services to ensure consistent transfers.
Jet Architecture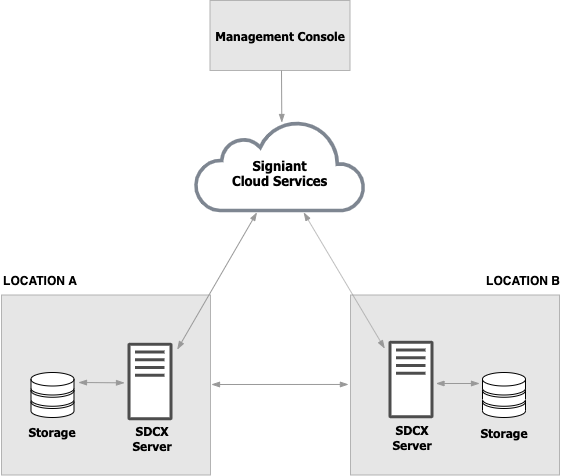 Management Console
Administrators configure jobs, endpoints, routes, and users via the management console. The management console is a cloud-based application that allows administrators to log in and manage Jet from their own network, or the public internet via a secure and encrypted connection.
Signiant Cloud Services
Jet interfaces with Signiant Cloud Services to provide web and database servers, account management, and reporting services. Cloud services provide a way to report server and transfer status, as well as provide the functions necessary to transfer files between locations.
Locations
Locations refer to on-premises deployments of Signiant SDCX Server behind a firewall and connecting to storage. On-premises storage can be local disk or network attached storage (NAS). In order to transfer files, your location's firewall must be configured to allow network traffic to Signiant's servers.
Deploying Signiant Jet
Before deploying Jet to an on-premises location, make sure that the mandatory prerequisites for implementation are in place:
Ensure that the installation and configuration of servers meets hardware and operating system requirements.

Allocate adequate local or network storage.

Ensure that no other software is using the local ports required by Signiant SDCX Server.

Allocate and configure either a publicly routable IP address or a custom IP address using NAT if using port forwarding.

Ensure the server's IP address is static to minimize outage time if network configuration changes.

Ensure network and local server firewalls are configured to allow connections to and from other Signiant SDCX servers and from the Jet cloud services as per network requirements.
Network Requirements
The following ports are required by Signiant SDCX Server to perform transfers:
Protocol
Direction
Port Range
Change Type
Description
TCP
Inbound
80
Network Firewall
Used for file transfer failover.
Content is encrypted before being transferred.
TCP
Inbound
49221
Network Firewall
Used for file transfer
UDP
Bidirectional
49221-49421
Network Firewall
Used for file transfer
UDP
Bidirectional
49321
Network Firewall
Used for file transfer
TCP
Bidirectional
50221
Network Firewall
Used for file transfer
TCP
Outbound
443
Network Firewall
Used to connect to cloud services
Storage server to Amazon EC2 IP Ranges
Storage server to Amazon CloudFront IP Ranges
For more details, see system requirements.
Windows NAS Storage and Signiant Jet
If the Signiant SDCX Server is not part of a Windows domain, then a local user account with administrative privileges and the same username and password are required to access the NAS server.
To configure a NAS as storage on Windows:
In the Windows control panel, open Windows Services .

Select the Signiant Jet Server Service.

Edit the service properties and click the Log On tab.

Select This account.

Enter the domain, user name and password to access NAS storage. This user requires local administrator privilege on the local machine. (e.g. domain\userName)

Note: The NAS server itself may be on a Windows domain. If the NAS server is not associated with a Windows domain, do not enter a domain.

Click OK to save the configuration changes.

Restart the service to apply the changes.

Repeat steps 1-7 for the Signiant Media Shuttle Web Server service and the Media Shuttle Process Controller service using the same credentials as the Signiant Jet Server service.

Configure endpoints to use your NAS server by specifying a UNC path. (e.g. \\server\share\folder)