Signiant Jet is a SaaS solution designed to act as an engine for automated system-to-system file transport between geographically distributed locations. Although Jet is intended primarily to be used for regularly-occurring transfers, administrators can also use it for one-time transfers between storage locations.
Jet can transfer content within the same company or between companies using on-premises file storage from any vendor. Future releases will also support file movement to and from cloud storage.
Jet can be configured to use on-premises storage using Signiant SDCX Server software. Jet transfers are accelerated between endpoints through technology included in the SDCX Server, and by interfacing with Signiant Cloud Services to ensure consistent transfers.
Jet Architecture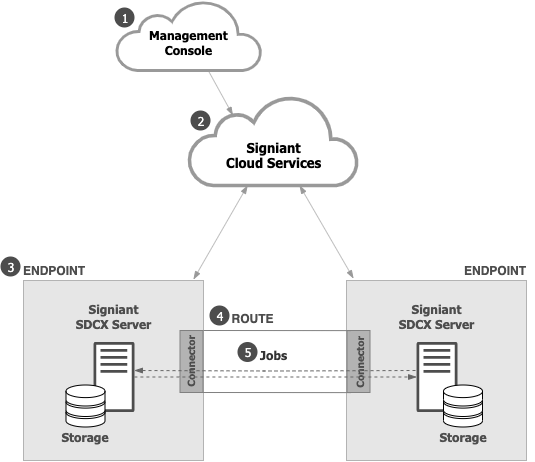 1. Management Console
The Jet management console is a cloud-based application that allows administrators to configure endpoints, routes, jobs, and users. Administrators can log in and manage Jet from their own network, or the public Internet via a secure and encrypted connection.
2. Signiant Cloud Services
Jet interfaces with Signiant Cloud Services to provide web and database servers, account management, and reporting services. Cloud services report server and transfer status, and contribute the functions necessary to transfer files between locations.
3. Endpoint
An endpoint is a file storage location that serves as a file transfer source or destination. At each endpoint, you must download and install Signiant SDCX Server software. An endpoint must connect to either local disk or network attached storage (NAS). Once installed, SDCX Servers provide accelerated transport functionality and secure communication with Signiant Cloud Services for control and reporting purposes.
To learn how to create endpoints and assign storage to endpoints, see Configuring Endpoints.
4. Route
A route connects two endpoints. Once a route is built, jobs can be added to the route. Every route requires the use of two connector tokens, one at each end of the route.
To learn how to create routes and test endpoint connections along a route, see Building Routes.
5. Job
A job specifies rules regarding the files to transfer and when to transfer them. Each route can support an unlimited number of jobs.
To learn how to create jobs, see Working With Jobs.
Deploying Jet
Jet deployment and configuration is performed through the Jet management console, which is accessible through any web browser.
For supported operating systems and hardware requirements, see Jet System Requirements.
For network and local port requirements, plus instructions for deploying an SDCX Server, see the Jet Deployment Guide.
Jet is designed to work with Media Shuttle by allowing automated file movement between Signiant SDCX servers used as either Media Shuttle storage servers or dedicated Jet endpoints.
For more information, see Combining Jet and Media Shuttle in Workflows.