Once a job is created, you can view its job details by clicking on the job name on the Jobs page.
The Job Details page displays a list of File Transfers associated with the job, and overall Job Information.
Each tab lists files included in the transfer based on their current status:
In Progress: Files currently transferring to the destination endpoint.
Completed: Files successfully transferred to the destination endpoint.
Errors: Files unable to transfer to the destination endpoint.
Note: If a file that was unable to complete transferring later finishes, the file will appear on the Completed tab, and not on the Errors tab.
Job Summary
The In Progress tab displays a job summary bar which includes statistics on the number of files in progress and in the queue, an estimated completion time for in progress and queued files, and the current average transfer rate.
File Search
You can search for files on the Completed and Errors tabs. Once a file has finished transferring or has failed to transfer, use the search box to enter part of a file name to see files matching your search.
File search is currently limited to the first 10,000 files, and returns a maximum of 100 results on the Job Details page. When more than 100 files are returned, the total number of search results is displayed.
Note: You can also search across multiple jobs by using the file search on the Jobs page.
File Transfers
The file transfers section on each tab displays files associated with the current job.
Note: On the Completed tab, the Completed Files total includes both files and folders.
Job Information
The job information panel on each tab includes the overall job status, the route type, when the job was last modified, a list of the source and destination endpoints included in the job, and bandwidth controls.
Any post-transfer action applied to a job will appear in the Source section of the job information panel.
Note: Jobs with a manual job trigger also include a start button to start the transfer.
Job Notifications
The Watch menu allows you to receive email notifications about transfer activity.
Click to open the Watch menu.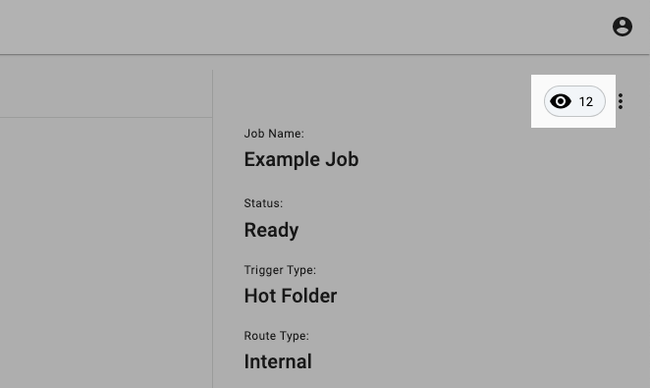 Click Start watching this job to send transfer notifications to your email address. To stop watching a job, click to open the watch menu and select Stop watching job.
Hot Folder Summary Emails
When selecting to watch a Hot Folder job, you must select a reporting period for transfer notification emails.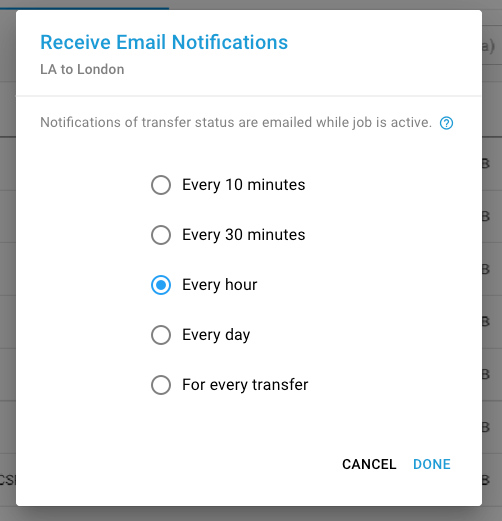 When a transfer completes, a notification email will be sent at the end of the selected notification period. Any additional transfers that complete during that period are also included in the notification email.