Media Shuttle is an easy-to-use software solution for transferring large files and data sets across networks. Media Shuttle allows quick and secure upload and download of content to cloud-based or on-premises storage.
Media Shuttle has three primary components:
Portal Types
How Media Shuttle users send and receive content depends on the type of portal they are using:
Each portal type includes different file operations you can use when sending and receiving content to and from storage or other portal members. Available file operations are described in the articles on Send, Share, and Submit portals.
Portal Access
Portal members access Media Shuttle via a browser and/or the Signiant App. Members may connect from either the customer's own network or the public Internet. The Media Shuttle portal member interface is served from Signiant Cloud Services using a encrypted channel, with data moving directly between the user's system and on-premises or cloud-based SDCX Servers.
Signiant App
It is recommended that Media Shuttle file transfers be accelerated using the Signiant App, a free download available for macOS and Windows. If an IT environment makes it impractical to install the Signiant App, App-less transfers offer more limited functionality.
By default, Signiant App upgrades are automatically downloaded when available. Media Shuttle users can also manually download Signiant App updates. A notification is displayed in Media Shuttle when the update is ready for installation.
SDCX Server
Signiant SDCX Server software allows you to use Media Shuttle to transfer content to on-premises file system storage or S3 compatible object storage. The SDCX Server also underpins Signiant Jet, allowing integrated workflows using both Signiant transfer products.
By default, SDCX Server upgrades are automatically downloaded. IT Administrators can also choose to upgrade to the latest SDCX Server version manually. For details, see Upgrading SDCX Servers.
In Media Shuttle, access and tasks are divided by roles, each of which has access to different web interfaces and unique areas of portal configuration and activity.
To learn about deploying Media Shuttle with on-premises storage and/or cloud object storage, see Getting Started with Media Shuttle.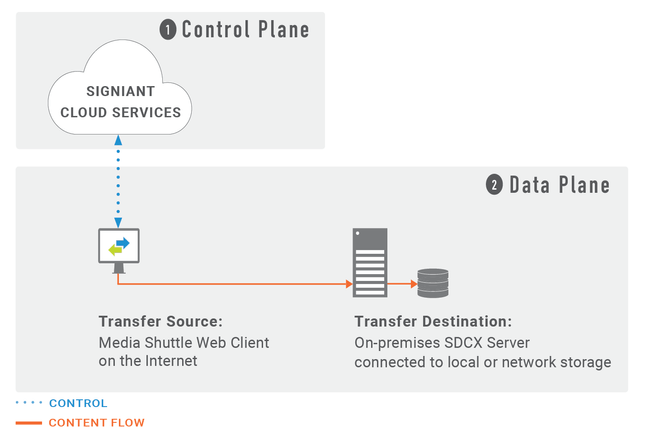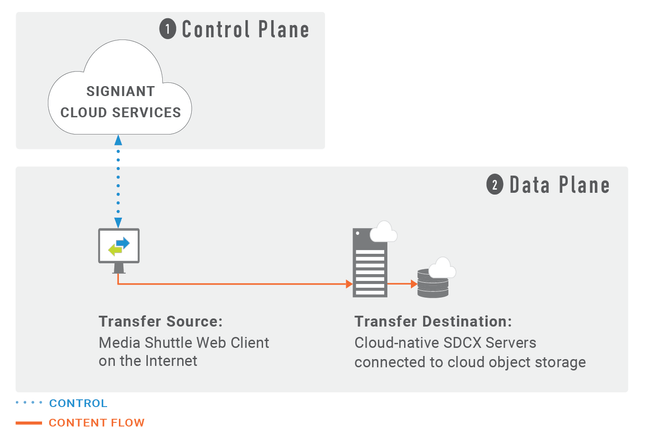 1. Signiant Cloud Services on the Control Plane
Media Shuttle interfaces with Signiant Cloud Services on the control plane to provide account management, reporting services, and automatic application updates. Cloud services report server and transfer status, and contribute the functions necessary to transfer files between locations.
2. Customer Network on the Data Plane
For deployments involving transfers to and/or from on-premises storage, Signiant SDCX Server software is installed on one or more Windows or Linux servers. Deployments using cloud storage only do not require the installation of SDCX Server software.